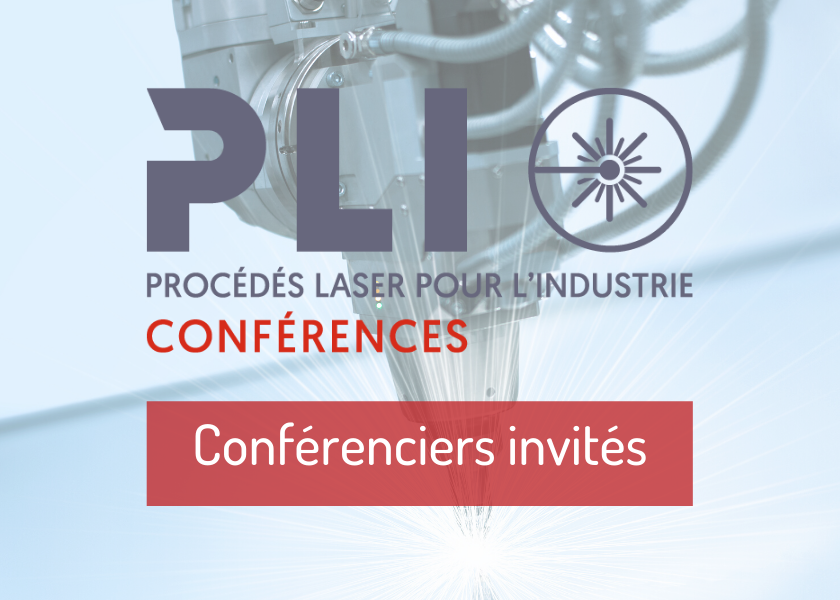 CONFÉRENCIERS INVITÉS - PLI CONFÉRENCES 2021
Le Club Laser et Procédés a le grand plaisir de vous dévoiler les conférenciers invités pour l'édition 2021 de PLI Conférences !
Christophe ARNAUD - NOVIKA : « Remote Laser cutting of Li-ion electrodes in nanoseconds regime. »
Christophe ARNAUD is a project manager and laser processing specialist for Solutions Novika in Quebec – Canada. He studied in Laser, Optic and Photonics in France and has 17 years of experience in laser processing. Mr. ARNAUD has worked on CW and long pulse laser to develop laser welding of aluminum alloys (6xxx series) by multi-beam and by oscillating beam. He wrote technical papers dealing with laser polishing, laser structuring by remelting and laser additive manufacturing by wire-based metal deposition. On the other hand, he worked on short pulse lasers and ultrashort pulse lasers for laser composite machining, laser texturing and micromachining. He collaborated onto many projects and his skills in programming and integration led to a fully laser-based automated production of car for disabled people (laser retro-conception and machining) during LASHARE II project (SCALP).

- Nicolas AUTHIER - CEA VALDUC : « Coupled membrane free optical microphone and Optical Coherence Tomography keyhole measurements to setup welding laser parameters »
Diplômé Docteur-Ingénieur en Physique des réacteurs nucléaires en 1998, il intègre le Commissariat à l'Energie Atomique et aux Energies Alternatives – Direction des Applications Militaires en 1999. De 1999 à 2002, il est en charge de la maintenance évolutive des bibliothèques numériques d'équations d'état, appelées par les codes d'hydrodynamique rapide. De 2002 à 2009, il rejoint le service de recherches en neutronique et criticité du centre de Valduc pour redémarrer deux assemblages critiques, CALIBAN et PROSPERO, utilisés comme source neutronique pour le durcissement d'électronique civile et militaire. De 2009 à 2013, il prend en charge le laboratoire des projets expérimentaux de criticité et développera des collaborations internationales autour d'exercices de radioprotection. De 2013 à 2020, il rejoint le département de fabrication de Valduc et prend en charge le laboratoire d'assemblage et de soudage par laser. Il dirigera la mise en place de nouveaux procédés de soudage et développera notamment les systèmes de contrôle en ligne. En juin 2020, il est nommé Assistant Scientifique du centre de Valduc.

- Didier BOISSELIER - IREPA LASER : « Additive Manufacturing : markets, trends and innovations »
Didier Boisselier is specialized in laser applications applied on material treatment. He has been working in this field since 1985 at IREPA LASER, and has been in charge of the development of new laser applications (laser welding, soldering, and Laser Additive Manufacturing). He managed several European R&D projects, among them the first development of a Laser Metal Deposition process that gave the CLAD® process in 2007. He directed the development of new machines and software dedicated for LMD-CLAD® application that led to the creation of the BeAM company in 2012. He is now in charge of Additive Manufacturing development at IREPA LASER.

- Bernabé CARCEL GONZALEZ - TECNOCLAD : « Laser welding metal polymer hybrids »
Prof. Dr. Bernabé Cárcel González. Degree in Materials Engineering, Doctor (PhD) in Mechanical and Materials Engineering by the Universitat Politecnica de Valencia. Co-founder and Chief Technology Officer in Tecnoclad Laser Solutions, company founded in 2016 and focused on different services related with laser processing of materials. From 2007 to 2015 he worked as project manager in AIDO Optics Institute, participating on several research projects in the field of both micro and macro laser technologies. From 2012 he holds a position as Associated Professor in the area of materials engineering and materials science at the Universitat Politècnica de València (Spain). He has published more than 10 scientific papers and participated in several congresses and conferences in the field of laser technologies.

- Maxime CHAMBONNEAU - JENA UNIVERSITY : « Processing bulk silicon with ultrashort laser pulses at 2-µm wavelength »
Maxime Chambonneau est né en 1988 à Poitiers (France). Il a obtenu son diplôme d'ingénieur et de master en Modélisation Mathématique et Mécanique en 2011 à l'école d'ingénieur ENSEIRB-MATMECA à Bordeaux (France). Par la suite, il a obtenu le grade de docteur en Sciences d'Aix-Marseille Université en 2014. Sa thèse de doctorat porte sur l'endommagement laser multi-longueurs d'onde de la silice en régime nanoseconde, et s'est déroulée au CEA-CESTA au Barp (France). Il a ensuite travaillé en tant que chercheur post-doctorant au laboratoire LP3 à Marseille (France) de 2015 à 2016 sur l'interaction laser femtoseconde– silicium pour des applications dans le domaine de la sécurité de systèmes microélectroniques. Puis, il a travaillé en tant qu'ingénieur de recherche à la SATT Sud-Est (Marseille France) de 2017 à 2018 sur la fonctionnalisation par laser nanoseconde du silicium. Depuis 2018, il travaille à l'Institute of Applied Physics à Iéna (Allemagne) sur l'interaction laser infrarouge moyen–semiconducteurs.

- Jack GABZDYL - TRUMPF : « ns pulsed fiber lasers – the power of 1mJ! »
Over the past 11 years Dr Jack Gabzdyl has held numerous roles at SPI Lasers with the most recent being VP of Marketing & Business Development. Jack has 33 years of industrial laser materials processing experience and has been widely published with over 60 technical conference papers and articles/publications. He is currently responsible for laser materials processing applications development at SPI. Jack has a degree in Metallurgy and Materials Science and obtained a PhD in Laser Material Processing from Imperial College London in 1989, focusing on laser cutting. Through his career Jack has been actively involved in the wider promotion of laser technology having been chair of the UK 'Make it With Laser' programme, UK delegate to the IIW and a committee member of AILU. His contribution has recently been recognised by his election as a Fellow of the Laser Institute of America (LIA).

- Florent HUSSON - ALPHANOV : « Laser-based polishing and reshaping of 3D extended surfaces »
Florent Husson, 26yo, Studied a Master Material Science in La Rochelle University (2016). I have been working in the aeronautical field for 2 years in Ireland before ALPhANOV on the laser cladding for critical plane engine parts. Working with different type of laser in a Research and Development environment has only started with when I integrated the Mesoscale laser processing team in AlphaNov in February 2019.

- Santiago Miguel OLAIZOLA - CEIT : « Recent developments in the micro and nanostructuring of surfaces with fs laser, application examples »
Dr Santiago M Olaizola studied in the University of Navarra (Spain) and the University of Sheffield (UK). He has specialized in ultafast lasers applications since 2000. He is now manager of the ultrashort pulse lasers group in Ceit-BRTA since 2018. The focus of the group is to work closely with industrial endusers to develop practical laser processes, bridging the technological and knowledge gaps for the technology to be accepted and integrated in the fabrication processes of companies in different sectors that are typically non experts in photonics. In the last years he has specialized in surface processes and its applications.

- Clemens HÖNNINGER - AMPLITUDE : « Agile high power femtosecond lasers »
Clemens Hönninger is Vice President and Head of R&D in Amplitude. He graduated at the University of Heidelberg, Germany, and holds a PhD in physics from the Swiss Federal Institute of Technology (ETH) in Zurich, Switzerland. His research interests are in femtosecond Yb-doped crystal and fiber-based lasers and in the development of new functionalities to optimize the use of these lasers for industrial applications.
Rendez-vous les 7 et 8 juillet en ligne !