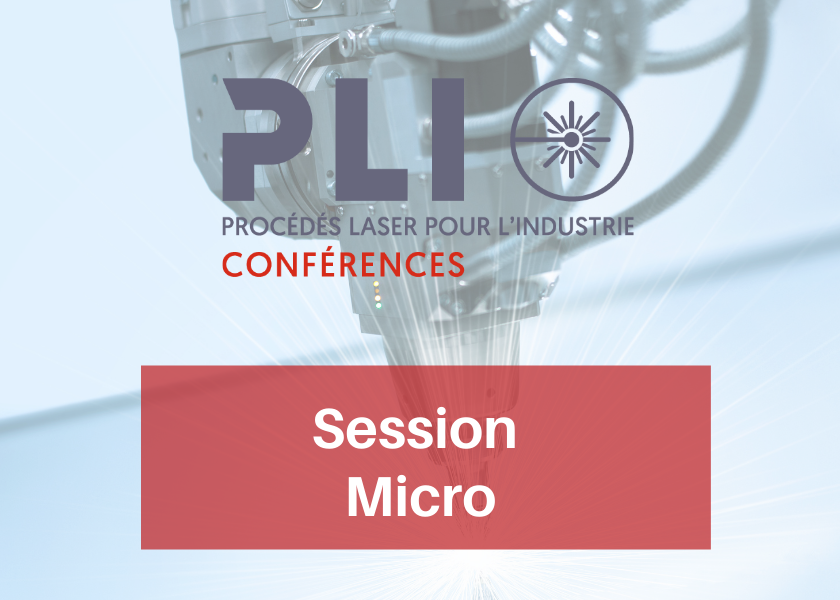 PLI CONFÉRENCES 2021 - SESSION MICRO
Découvrez le programme de toutes les conférences sur le thème des micro-applications !
LASEA - Jean-Christophe WAUTERS
Synchronisation platines – scanner Galvo pour extension du champ avecmaintien de la qualité d'usinage
Stage and scanner synchronization to extend the machining field without compromise on the quality
MULTITEL - Emeric BIVER
Optimisation du perçage de micro-trous femtoseconde dans des plaquesde titane pour l'industrie aéronautique
Optimisation of femtosecond micro-holes drilling in Titanium sheets for the Aeronautics industry
CAILABS - Gwenn PALLIER
Génération de profil d'intensité top-hat à fort contraste par technologie MPLC pour l'amélioration de la qualité de micro-usinage par laser fs
Sharp top-hat generation with Multi-Plane Light Conversion for femtosecond laser material microprocessing quality improvement
QIOVA - Florent THIBAULT
Mise en forme de faisceau digitale : finis les compromis entre vitesse et qualité
Digital beam shaping: no more trade-off between speed and quality
CELIA CNRS - John LOPEZ
Irradiation laser à double impulsion fs à double longueur d'onde pour le traitement de la silice fondue
Dual wavelength double fs-pulse laser irradiation for fused silica processing
CAILABS - Gwenn PALLIER
Amélioration des procédés de découpe de verre grâce à un faisceau de Bessel généré par un axicon réflectif
Improved glass cutting using a Bessel beam generated with a reflective axicon
AMPLITUDE - Eric AUDOUARD
Approche numérique pour l'optimisation des paramètres laser dans le traitement femtoseconde
Digital approach for laser parameters optimization in femtosecond processing
LASER CHEVAL - Emric VERWAERDE
Démocratisation des lasers Femto secondes dans les ateliers de micro mécanique
Democratization of femtosecond lasers in micro manufacturing facilities
OPTEC - Olivier FONTAINE
Technologie hybride pour l'usinage 5 axes de céramiques avant frittage
Hybrid technologies applied to 5 axis machining of green ceramics
MULTITEL - Simon BOIVINET
Système laser compact sub-nanoseconde délivrant 325 µJ par impulsion
Compact laser system delivering 325 µJ sub-nanosecond pulses
CEPELEC - Denis MASSART
Gestion de la pollution générée par les applications laser
Management of pollution induced by laser processing
MELIAD - Jean-Michel DUCHAZEAUBENEIX
Traitement de surface laser dans la chaine de fabrication des véhicules électriques
Laser Beam Surface Processing in the Value Chain of Battery Production
GF MACHINING SOLUTIONS - Jean-Paul NICOLET
Repousser les limites du traitement des matériaux par laser à 5 axes
Pushing the boundaries of 5-axis Laser Material Processing
ALPHANOV - Girolamo MINCUZZI
Fonctionnalisation de surfaces par laser femtoseconde : traitement de pièces de grandes dimensions, forte productivité et procédé roll-to-roll
A route towards large scale, high throughput surface functionalisation with femtosecond laser and roll-to-roll processing
LASEA - José ANTONIO RAMOS
Micro-usinage laser par laser ultrabref de forte puissance moyenne : exemple de réalisations récentes en projets de R&D
Laser micromachining with high average power USP lasers: examples of recent achievements in R&D projects
AMPLITUDE - Guillaume BONAMIS
Traitement femtoseconde GHz: paramètres laser clés
GHz femtosecond processing: key laser parameters
LIGHT CONVERSION - Jean-François POISSON
Bénéfices des modes BURST MHz et GHz de nos lasers Femto PHAROS et CARBIDE pour le Micro-usinage par Laser
Advantages of MHz and GHz bursts PHAROS and CARBIDE Femto for laser micro machining
D'autres experts prendront la parole sur la fabrication additive et le soudage.
En espérant vous compter parmi nos participants les 7 & 8 juillet en ligne !

> Consulter le programme complet