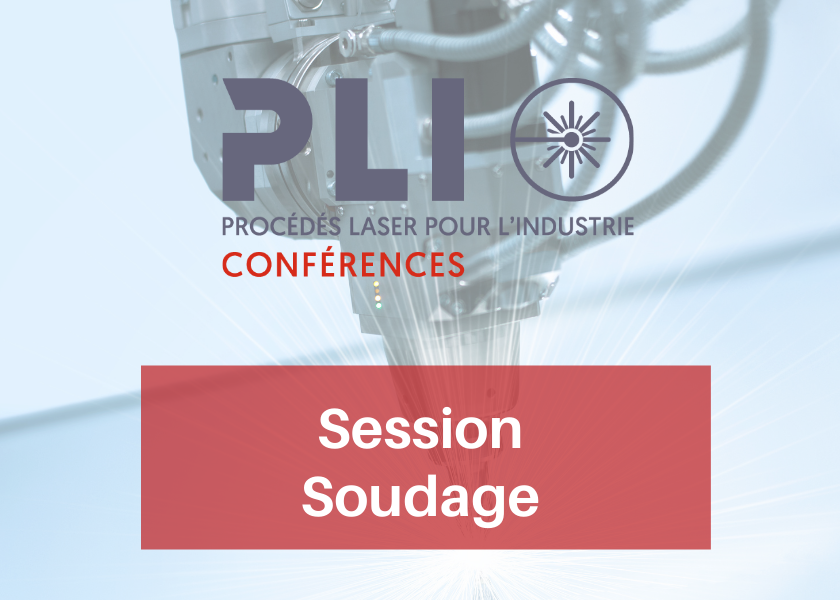 PLI Conférences 2021 - SESSION SOUDAGE
Découvrez le programme de toutes les conférences sur le thème du soudage !
FIVES MACHINING - Greg COURDILLE

Applications de soudage pour l'électrification des véhicules : soudage des composants d'électronique de puissance en cuivre, par voie laser
Welding applications for vehicle electrification: welding of copper power electronics components, by laser
VL INNOVATIONS - Morgane GEYER
Soudage hétérogène Cuivre-Titane par le procédé de soudage laser sous vide
Heterogeneous Copper-Titanium welding by the vacuum laser welding process
IREPA LASER - Frédérique MACHI
Soudage métallique par laser ns : caractérisations et applications
SOLANACEE project, an opportunity for characterization and industrial application for nanosecond metal welding
IPG PHOTONICS - Laurent WEBER
Suivi de procédé par imagerie cohérente pour le soudage par laser à fibre
Smart welding with fiber lasers and inline coherent imagining process monitoring
EMPA - Marc LEPAROUX
Influence de l'interaction laser-plasma sur la qualité du soudage de Titane
Influence of laser-plume interaction on quality of laser welding of titanium
LASERLINE - André ELTZE

Applications potentielles des laser à diodes pour le soudage
Application potentials of the diode laser in welding technology
INSTITUT MAUPERTUIS - Nicolas GAILLARD

Soudage hybride laser-arc d'aciers à haute résistance
Hybrid Laser-Arc Welding of high strength steels
PRECITEC - Boubakar SEHILI
Soudage par scanner laser intelligent - applications et perspectives
Intelligent laser scanner welding – applications and perspectives
TRUMPF - Sylvain BEAUSIRE
Technologies d'assistance pour le soudage de pièces de grandes dimensions : optiques innovantes & capteurs
Assistance with laser welding of large parts: innovative optics & captors
CAILABS - Gwenn PALLIER
Réduction des projections pendant le soudage par laser 16kW @1030nm par une mise en forme de faisceau annulaire en réflexion
Spatter reduction on Laser Beam Welding processes thanks to a fully reflective annular beam shaping with a 16kW 1.03µm laser
COHERENT - Laurent MENUAT
Système de déflexion optique stand-alone innovant pour le soudage métallique par laser à fibre monomode : principe de fonctionnement et applications
New stand-alone beam deflector device for laser metal welding: the technology and some applications
D'autres experts prendront la parole sur les micro-applications et la fabrication additive.
En espérant vous compter parmi nos participants les 7 & 8 juillet en ligne !
> Consulter le programme complet