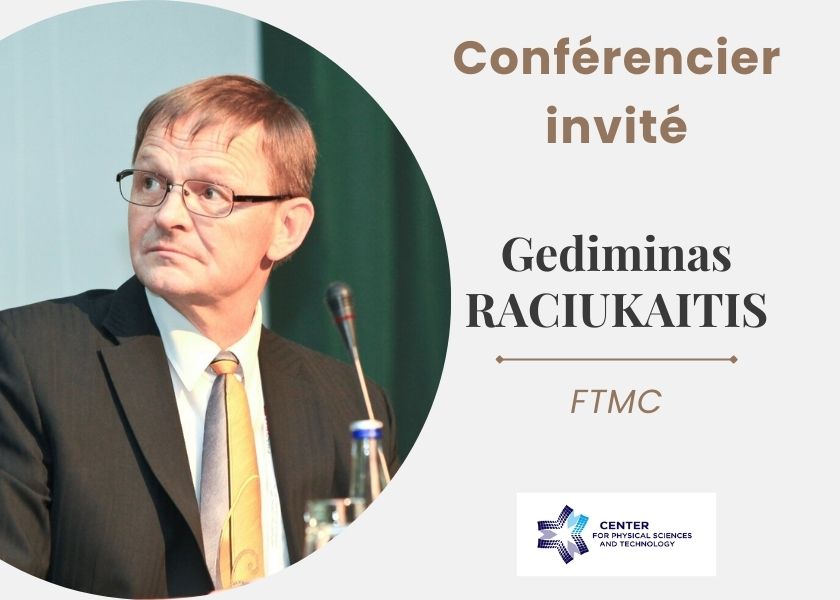 PLI Conférences - Guest Speakers : Gediminas RACIUKAITIS
The CLP is pleased to introduce you to the 9 guest speakers present at the PLI Conferences this year !
Gediminas RACIUKAITIS - FTMC
Dr Gediminas Račiukaitis, chief research fellow, head of the Department of Laser Technologies at the Center for Physical Sciences and Technology (www.ftmc.lt) and President of the Lithuanian Laser Association (www.ltoptics.org).
He graduated from Vilnius University, Faculty of Physics in 1978 and started to work at Vilnius University. He got PhD degree in 1985 in the field of non-linear spectroscopy in semiconductors.
Since 1995, he is with the Ekspla laser company (www.ekspla.com) and currently holds a position as a consultant on laser technologies. His activity in the company was related to the application of lasers in industry, organisation of laser job-shop, and implementation of laser technologies. By the agreement between Ekspla and the former Institute of Physics, the activity was moved to the new–established Laboratory for Applied Research at the Institute of Physics in 2004. In February 2011 the laboratory was converted to the Department of Laser Technologies with seven laboratories (www.lts-ftmc.lt). Research activities include the development of new laser sources, applications of lasers in material micro-processing with ultra-short pulse lasers and photonics, 3D laser printing, robotics and implementation of laser technologies in the industry.
One of the consequences of his activities is a spin-off company ELAS – laser system integrator, established in 2010 (www.e-lasers.com). He is a co-author of more than 200 papers in scientific journals, more than 15 patents, and plenty of presentations at international conferences. www.orcid.org/0000-0002-8560-5062. He was supervising more than 10 PhD students.
G. Raciukaitis is experienced in project coordination including national and international research projects, contract research activities for local and foreign companies