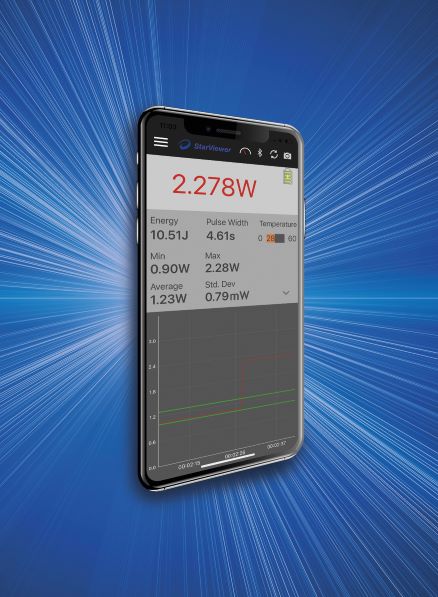 MKS Announces Ophir® StarViewer iOS App
MKS Instruments, Inc. (NASDAQ: MKSI), a global provider of technologies that enable advanced processes and improve productivity, has announced the Ophir® StarViewer iOS App at SPIE Photonics West 2023. The StarViewer app delivers laser power/energy measurements wirelessly to iOS iPhones and iPads. Data can be displayed in a variety of formats: time-based line graph, needle display, or large numeric display with statistics. Users can also capture a screenshot and share it, such as when a field technician needs to report results back to the lab. The StarViewer iOS app is designed to work with the Ophir Ariel laser power meter to remotely support applications in additive manufacturing, as well as industrial cutting and welding, medical devices, laboratory research, and more.

The StarViewer iOS app is used with Ophir Ariel, an ultra-compact laser power meter for measuring high power industrial lasers up to 8KW. The Ariel power meter is a robust, battery-powered device that requires no water or fan cooling and is small enough to fit in the palm of your hand. The system measures laser powers from 200mW to 8KW, and a wide range of wavelengths, including 440-550nm green and blue lasers, increasingly popular in copper welding; 900-1100nm fiber lasers, used in most metal processing; 10.6µm CO2 lasers; and 2.94µm medical lasers.
"Lasers in closed additive manufacturing chambers need to be checked on a regular basis, especially before the start of a build job," said Reuven Silverman, General Manager Ophir Photonics. "The challenge is that these are closed, confined spaces that are not suitable for human operators or for cables or separate display units. Now with the StarViewer iOS app and Ariel power meter, users can take measurements directly in the chamber and transfer them via Bluetooth to their iPhones or iPads. This simplifies the measurement process and ensures accurate builds."
Availability & Pricing
The Ophir StarViewer iOS app is available for free via the Apple App Store.
An Android version is also available via the Google Play Store.
EU SALES INQUIERIES : Info-Ophir-EU@mksinst.com
DATA SHEET: https://www.ophiropt.com/laser--measurement/software/starviewer-android-app