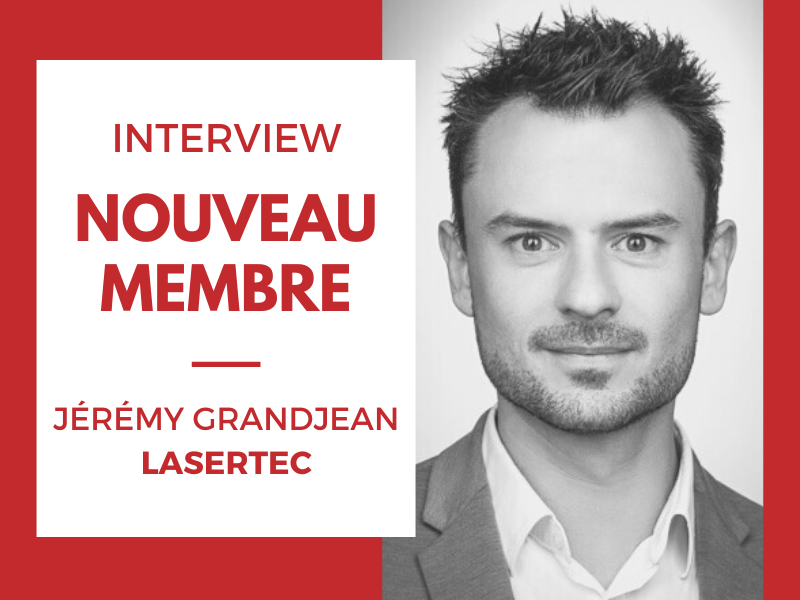 New member interview - LASERTEC
In 2022, the Laser and Processes Club had the pleasure of welcoming four new members, including LASERTEC.
We asked a few questions to Jérémy GRANDJEAN, Micro-technical engineer within the company.
Good reading !


Can you introduce yourself in a few words?

My name is Jérémy Grandjean, I joined the Lasertec group in 2012 after working for a year in the watch industry and completing my engineering studies in micro-technology. I help customers from any industry to design and rethink their projects when laser technology can bring them value.


Can you present your company and its specialty?

Lasertec is a laser subcontractor specialized in laser cutting, laser engraving and laser welding. What makes Lasertec unique is the fact that we develop our own laser machines in order to offer our customers unique solutions. We offer a professional laser subcontracting service to industries requiring high precision such as watchmaking, medical instruments, semiconductors among others. More than 27 years of experience in a wide variety of markets and technologies has allowed Lasertec to establish a strong position in the industrial market.


How did you hear about the CLP and why did you choose to join?

I knew the CLP thanks to one of the members who told me about it during a trade show. Seeing the main actors of the member laser, I decided to join the CLP in order to open my knowledge of the market and to make known our know-how in the field.


What are the latest innovations of your company that you are most proud of?

We are able to position our laser on existing parts with a precision of 0.3 µm. We have developed a laser with a beam diameter of only 1.5µm that allows us to do precision laser micro-drilling. In the watchmaking industry, we were the first to offer laser grooving and cutting of already decorated parts.